All the best as a house-husband in Australia ...
Note: It is a alcohol week for me ... I wanna drink chinese tea only!!!! Anyway, since it is my Maxis ex-boss farewell, I will drink till he drop ...
It is sad to lose a friend who is my ex-boss in Maxis but I am feeling happy that he is leaving for betterment.
He tendered his resignation as he will be migrating to Australia with his family end of this month.
This is the dinner farewell party we have organized for him ... attending his farewell is one word in your mind ... Welcome To My Dentist Chair !!! meaning, you will not be excused for not drinking.
We have it at Pantai Seafood restuarant ... nice place for seafood indeed ...
Look at the amount of liquor bottles he brought ... 23 bottles in total ... each one can drink one bottle liow ...
No food pics this time, only liquor pictures ... you can read and view more food pics at Mrs. Uli blog once again ...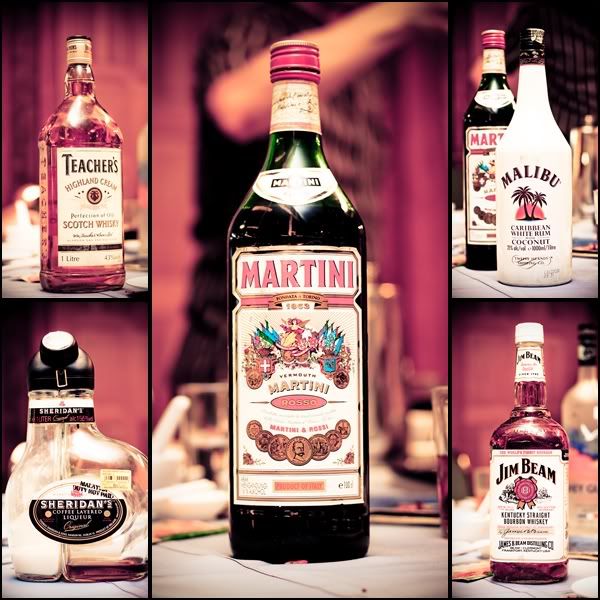 Thanks to Raymond for bringing all his collections for us to drink ...
Now Uli got her new Canon DSLR camera .... told her that she will be the main photographer for that night as I want to enjoy eating and drinking with Raymond ...
Top pic: Uli and her new toy!!
'Dentist Chair' experience ...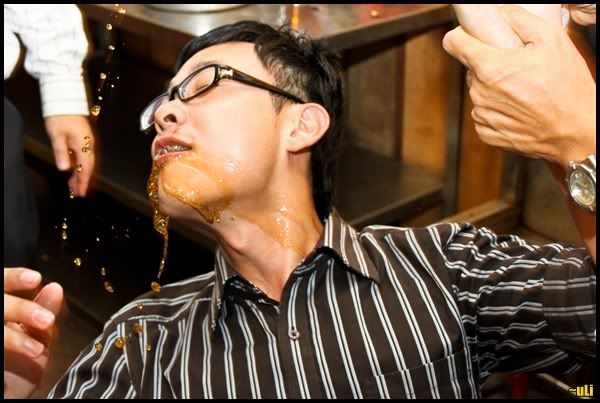 Jason been cummed ...
We have few rounds of this ... in the end, a few casualty caused from this effect ...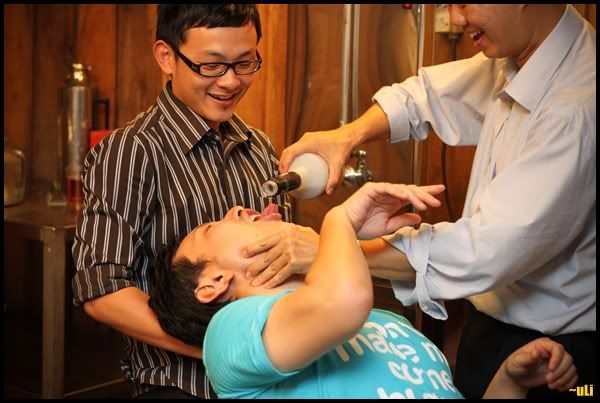 I've been cummed by Raymond ...
The OD gang bought a Sony digital photo frame for Raymond as his farewell gift.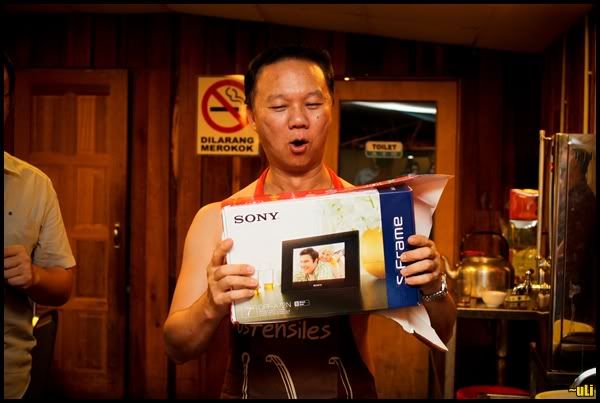 Sony Digital Photo Frame as a gift for Raymond ...
And the apron was bought by the ISD MAS team to Raymond to remind him to be a good house husband at home.
Party went even crazy ... look at them with their big belley except for Alvin ...
Ooops, 18 sx!!! who got the roundest belly?
Shucks, Loke noticed me that I am still with my shirt on and hiding behind ...
Below are the bottles we drank ...
Gosh, when I saw the amount of bottles we drank, I think I better eat vege for a month ...
As usual, we will take a family group picture as a rememberance ...
With that, we wish Raymond all the best in his new life in Australia ... he said he will mail me some Aussie porn magazine to me .... hahaha .... just kidding.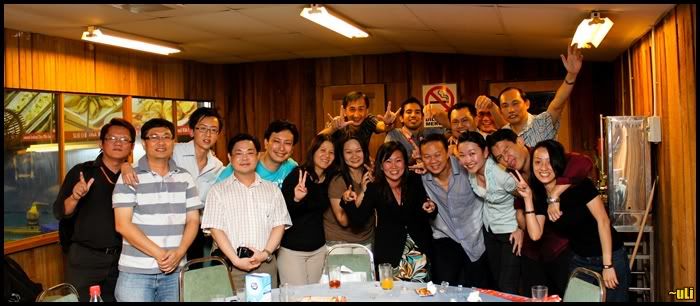 Oh yeah, I think we have been banned to enter Pantai Seafood restaurant already ... we know what we did there!
With that I want to end this post with a special message to my ex-boss, Raymond ...

I know you won't cry one so I won't write a touching dedication ....

Just wanna say thanks for all your guidance as my superior for 4 years ... the only thing I think about u is how we both can manage and roll out services successfully for all the requriements given by different Product Managers from Product team ... it is a great success and accomplishment which I am still thinking till now ... how we both of us can handle it, it is amazing ... this is my most ultimate job satisfaction I have experienced till now working under a great boss like u.

Nevertheless, I've been happy working under you and lots of this I've learned from you ... most of them will say that u teach me many dirty and ham sap things but that was part of the work fun. Work will be boring if without dirty jokes and fun, right.

You have been my great mentor ... and thanks for the decision for releasing me to IBM and finally I ended up in DiGi where I love my current job role. My wife is the first happy person that I am no longer in Maxis as she doesnt want me to work in Maxis as my first job and die in Maxis as my final job ... she appreciate ur decision on that ...

Do take care ... hope the ice did woke u up that night ...